Monmouth-Farm house patio restoration
Customer called us to discuss cleaning options for this extremley old flagstone patio.
The whole patio was so heavily infected with Lichens/Algae and grime.
After 3 rounds of softwashing, we were amazed by the results.
Lichens/alage/grime removed-unearthing this stunning flagstone patio.
To say the customer was happy, is a slight understatement.
Get in touch, if you have any queries regarding exterior cleaning.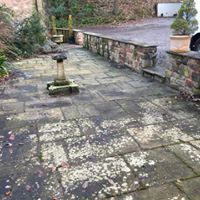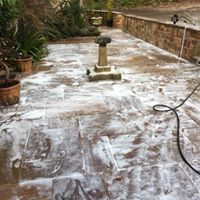 Exterior Cleaning Specialists
Based in the South West and Wales we provide pressure washing and exterior hard surface high pressure cleaning and restoration services.
Areas we cover –  Gloucester, Newport, Bristol, Monmouth, Abergavenny, Cwmbran, Ross, Hereford and Ledbury.
We don't just provide services locally we also cover all parts of the UK.
H2O have invested in the markets top soft washing and pressure washing equipment. Offering steam cleaning at 150 degrees and non-aggressive soft washing techniques. We have the solution for all your cleaning needs, both commercial and residential. We use extendable lances for high building work, reducing the need for ladders and extra equipment and cost. Rest assured we are fully insured and fully compliant with all HSE. CHAS premium accreditation, NEBOSH certification and IEMA environmental accreditation.